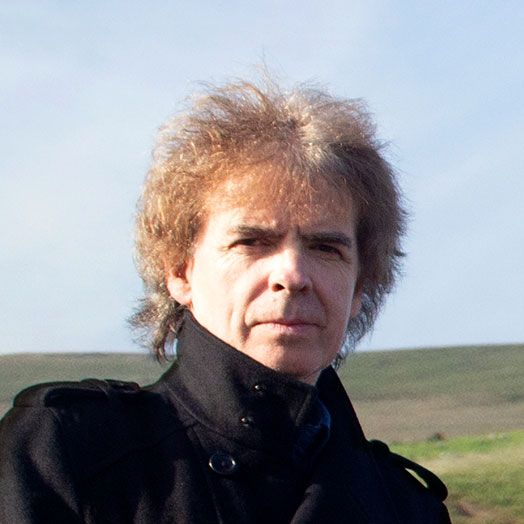 Peter Nicholls
IQ&A - Peter Nicholls
---
First single bought:
My Mum and Dad were both music lovers when I was growing up. Andy Williams, Shirley Bassey, Vic Damone and Val Doonican were my Mum's favourites. My Dad was the record-buyer, though, and his musical tastes were pretty eclectic. He had lots of classical music but he was also a big jazz man, particularly Oscar Peterson, and he was a Frank Sinatra fan, too. He loved nothing more than disappearing off into Manchester on a Saturday afternoon and spending hours scouring the record and book shops, a habit which I would inevitably absorb before too long.

We had a handful of singles, I remember: 'I Feel Pretty' by Julie Andrews and 'Right, Said Fred' by Bernard Cribbins, among others, but it all changed in 1970 when I was given a birthday present of a 50p record token by my Aunty Betty (doesn't everyone have an Aunty Betty?). This was something completely new! I loved 'The Partridge Family' on TV so off I went to Rare Records in Manchester, downstairs into the dark and enticing rock & pop department, where I swapped my token for the PF's debut single, 'I Think I Love You'. I had discovered my own music and life would never be the same again.
First album bought:
'Up To Date' by The Partridge Family, in 1971. Having played 'I Think I Love You' to within an inch of its life, it was time to take the big step into the madly exhilarating world of the LP. 'Up To Date' was the first record I bought with my own money, after saving up for several weeks. What a moment, finally handing over my £2.15, again downstairs in the rock & pop department but this time at Forsyth's on Deansgate (still there) and then clutching my very first LP. My Dad was with me, bless him. He was always there at these pivotal moments in my early life.
Last album bought:
I just ordered the new Psychedelic Furs album 'Made of Rain', their first studio album in almost 30 years. I've seen them live a couple of times recently and their back catalogue is brilliant: 'Love My Way', 'Pretty In Pink', Heaven', 'The Ghost In You'. Fantastic songs. When we were recording 'Fascination' on our first cassette album 'Seven Stories Into Eight', I tried to emulate Richard Butler's gravelly voice. Needless to say, I failed!
Favourite album:
It will always be 'The Lamb Lies Down On Broadway' by Genesis, for many reasons. The music and lyrics, obviously - flawless, in my opinion. The vision and courage of the whole piece, songs joined together by interlinking musical passages, the recorded performances, just the sound of the album, the intriguing photographic artwork. And then the live show. Seeing the album performed live in April 1975 had a profound impact on me. The show was the most exciting and inspirational experience I'd had and is still my favourite concert of all time.
Favourite film:
Well now, does the 'Lord Of The Rings' trilogy count as one film? Oh, and 'Jean de Florette' and 'Manon des Sources' – do they count as one? I reckon so. And 'Notting Hill', obviously.
Favourite book:
I studied 'Far From The Madding Crowd' by Thomas Hardy for 'O' Level English Literature and at first I thought I'd get nowhere with it, it just didn't seem like my kind of thing at all. (For a start, it didn't have Spider-Man in it!) But ten pages in, I couldn't put it down. Genius storytelling and characterisations. I also love Hardy's 'Jude The Obscure', a close second.
Favourite IQ album:
I see our albums as mementoes of the time we recorded them, who we were then as a band and as individuals. It's hard to separate the music from those memories. To my ears, the vocals sound rubbish on our early albums, so I find the more recent recordings less harrowing to listen to. 'The Wake' was recorded at a difficult time but it's definitely one of our defining albums. I like 'Subterranea' very much and 'The Road of Bones'. I think I'm still getting to grips with 'Resistance'!
Favourite IQ song to perform:
'The Road of Bones' is a good one for me. I like it being open at the start, before the bass and drums kick in. Neil and I can take our time with it, let it breathe a bit. Currently I enjoy doing 'Stay Down'. 'The Darkest Hour' and 'Guiding Light' are among my personal favourites and I'll always have a soft spot for 'The Last Human Gateway', that's a very special piece of music historically. 
Favourite musician (your instrument):
What I love in a singer is someone who makes it look effortless. They open their mouth and this beautiful, unique sound comes out. I can't pick one favourite male singer, it has to be the two Davids, Cassidy and Bowie. Female singer, the sublime Kristina Train, whom I adore.
First concert attended:
David Cassidy at Belle Vue, Manchester, in March 1973. I couldn't hear too much because of the incessant screaming (some of the girls were even louder!) but it was utterly thrilling and has stayed with me forever. I attended the concert alone but my Dad drove me there and collected me afterwards. There were concerns at the time because one of the balconies started to loosen under the weight of all those excited stamping feet. When I was lucky enough to meet DC a few years later, he remembered that. What an amazing man.
Last concert attended:
'A Bowie Celebration', a show put together by Mike Garson, DB's piano player and featuring a band comprised of musicians who had worked with the great man at various times. They played the whole of 'Diamond Dogs', my favourite Bowie album, and a galaxy of hits and rare tracks. A splendid time was had by all.
Favourite city:
I'm very fond of Paris, though it's been many years since I was last there. I was born in Ancoats, Manchester, and I'm still proud of my native city. New York has a great vibe, I must say.
Favourite biscuit:
A McVitie's Chocolate Digestive is always going to be a winner, it's a classic. Hobnob Creams not far behind, and Jaffa Cakes (though technically cakes, not biscuits, I know). Any combination of chocolate and orange is going to do it for me.
Did you ever have a rocking horse when you were a child?
No, but I used to have a recurring dream as a child (this is a true story) that, at night, I went to the house next door  to where I was living and, in the bedroom upstairs, there was a rocking horse pinned to the wall under the window. I would climb onto this horse and then promptly wake up. This is the origin of the 'rocking horse room' lyrics in 'The Enemy Smacks'.
If you were a kangaroo, what would you keep in your pouch?
Phone, reading glasses, loose change, ironing board, egg scrambler, warpaint, stepladders, Roget's Thesaurus, teabags (Tetley's), emergency KitKat (chunky). 
---
Tech Corner
Microphone: Shure SM-58
Tambourine: Ludwig

Ontstage Monitoring:
Sennheiser ew 300 IEM G3 wireless system
Hearwave - Triple driver In Ear Monitors