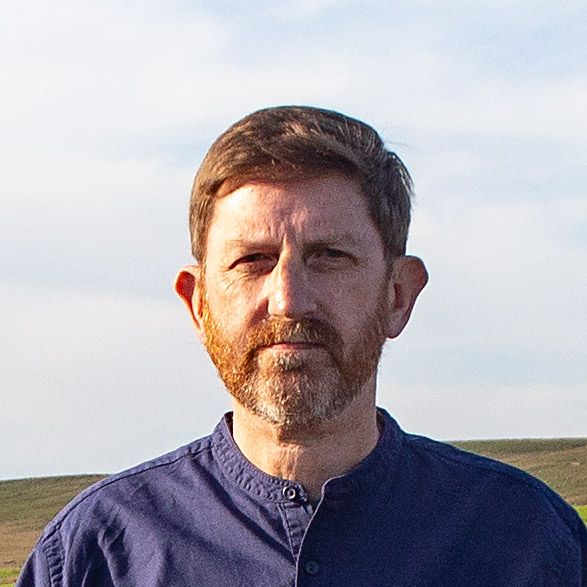 Michael Holmes
IQ&A - Michael Holmes
---
First single bought:
Historically singles were a completely different beast to albums - they weren't just adverts for an LP as they usually didn't appear on the album. They had their own identity and, in my head, a special kind of magic - unfortunately that seems to be one of the things that has been lost over the years. In the early days of the band I remember spending pretty much all my dole money in Record & Tape Exchange on a fortnightly basis, and that was nearly all on 7" singles. They usually had a large counter with literally billions of 10p singles, and it was just too much to resist…

As far back as I can remember 7" singles were my toys and before I was old enough to go to school I was given a toy record player with 3 plastic records - the only one I can recall now is 'Oh Dem Golden Slippers' so I guess that's the first single I ever owned. In terms of actually buying a single: I had ten bob spending money for my seventh birthday and naturally I wanted to spend it on records. I remember going into Woolworths where the singles were five bob each and eventually I narrowed it down to 'Pretty Flamingo' by Manfred Mann and 'These Boots Are Made For Walking' by Nancy Sinatra. I think that tells you everything you need to know about me...
First album bought:
The Beatles – Sgt. Pepper's Lonely Hearts Club Band. The genius of that album is that The Beatles were breaking all sorts of boundaries with the music (wildly varying styles, different modes, experimental arrangements and instrumentation) and at the same time the songs were soooo catchy – enough to please an eight year old kid (me) and the most seasoned muso. But even when they strayed towards cheese it was done in such a quality, accessible way. And the melodies…
Last album bought:
Thomas Newman - 1917 Original Soundtrack. Love Thomas Newman compositions, particularly his piano stuff (with that amazing sound) but this is a little different for him – really helps to elevate the film IMHO. The first track '1917' is over far too quickly.
Favourite album:
Come on, that's a horrible thing to ask – how can you pick just one? At this point in time (i.e. 13:05 on a Tuesday afternoon) I'm gonna go with Steely Dan (duh!) – The Royal Scam. A band in transition is always an interesting prospect and this was their 'from rock to jazz' midway point, at the same time infused with huge amounts of funk. It was the perfect precursor to 'Aja' which set new standards for cool and is wonderful of course, but for me The Royal Scam has such a great 'analogue-type' feel and, more importantly, groove! Check out Larry Carlton's brilliant, uplifting solo on Kid Charlemagne – and it's not even my favourite solo on the album!
Favourite film:
(see 'Come on…' above). Really difficult to pick just one – I could definitely watch films exclusive to anything else for the rest of my life! Today's choice: To Kill A Mockingbird. Gregory Peck quite rightly won the Oscar for his portrayal of Atticus, small town lawyer and father of Jem and Scout, but actually everything about this film is perfect! And a great soundtrack.
Favourite book:
Ooh, difficult. Don't know if it's my favourite, but the most inspirational book I've ever read is '45' by Bill Drummond, half of band/art project KLF – they find the best ways to say 'fuck off'! I finished that book raring to just get up and create something!
Favourite IQ album:
Boringly I tend towards the most recent thing we've done, so I guess currently I'd have to go with 'Resistance'.  Don't really know if it's my favourite IQ album, but it's the one I think more about at the moment. Still trying to learn bits of the long stuff for future live performance.
Favourite IQ song to perform:
Hmm, not sure I have a favourite… I actually quite like performing most of IQ's repertoire. For me the more important thing is the combination of tunes in a live set – I think its quite a difficult thing to be able to put together a show that flows well, keeps the interest factor up and includes a few surprises.
Favourite musician (your instrument):
That's gonna have to be Neil Young! I know he's not the fastest or the most technically 'gifted' musician in the world but really, who cares about technique? I want to be moved by the guitar and that's the effect Neil Young's playing has on me.
First concert attended:
Led Zeppelin, Southampton Gaumont, January '73. I took the morning off school (with my form tutor's permission!) to queue for tickets at the princely sum of £1! I remember it being veeery loud!
Last concert attended:
I tend to go to the theatre more these days and I'm finding it quite difficult to remember the last gig I went to! It would have been Manuel Gottsching performing 'New Age of Earth' at the Barbican on 4th April this year, but as we all know all live stuff was put on hold for a while… I guess it's *probably* Nearly Dan, the Steely Dan tribute act, at the Jazz Café. Do tribute bands count? BTW the last musical I saw was 'Dear Evan Hansen' which was mildly disappointing after all the hype.
Favourite city:
This one's a bit easier – London or New York! (is that cheating?). Both scary, exciting, atmospheric, inspirational places and I always love being in them.
Favourite biscuit:
Back to the difficult questions again… M&S All Butter Biscuits, McVitie's Hobnob Vanilla Creams, Asda Chunky Stem Ginger Cookies (yes, I have been to Asda…)
Have you ever owned an Austrian shepherd-boy puppet?
That's not something I could in all good conscience say 'Yes' to, I have to admit, much as I'd like to… I almost did, if that's any good?
Why did you get so fat?
I guess its a universe thing? We are after all just a bunch of atoms and they seem to have their way of determining your destiny, much like an Austrian shepherd-boy puppet. Or not.
---
Tech Corner
Guitars
Fender custom Stratocaster
Fernandes Monterey Pro with Fernandes Sustainer
Takamine nylon string acoustic
6 string acoustic
12 string acoustic
Fender Banjo!

Guitar effects
Line 6 Helix

Keyboard
Er, can't remember what I've got now...

On stage monitoring
ACS custom in ears
iPad Pro/Midas M-32 Mix software
Sennheiser ew 300 IEM G3 wireless system

Favourite studio software
ProTools DAW
Spectrasonics Omnisphere 2.6 (my go to synth for most sounds - great stuff!)
Spectrasonics Trilian
Spectrasonics Stylus RMX
SampleTank 3
M-Tron Pro
Blue3
Xpand!2
Steven Slate SSDSampler5 drum samples