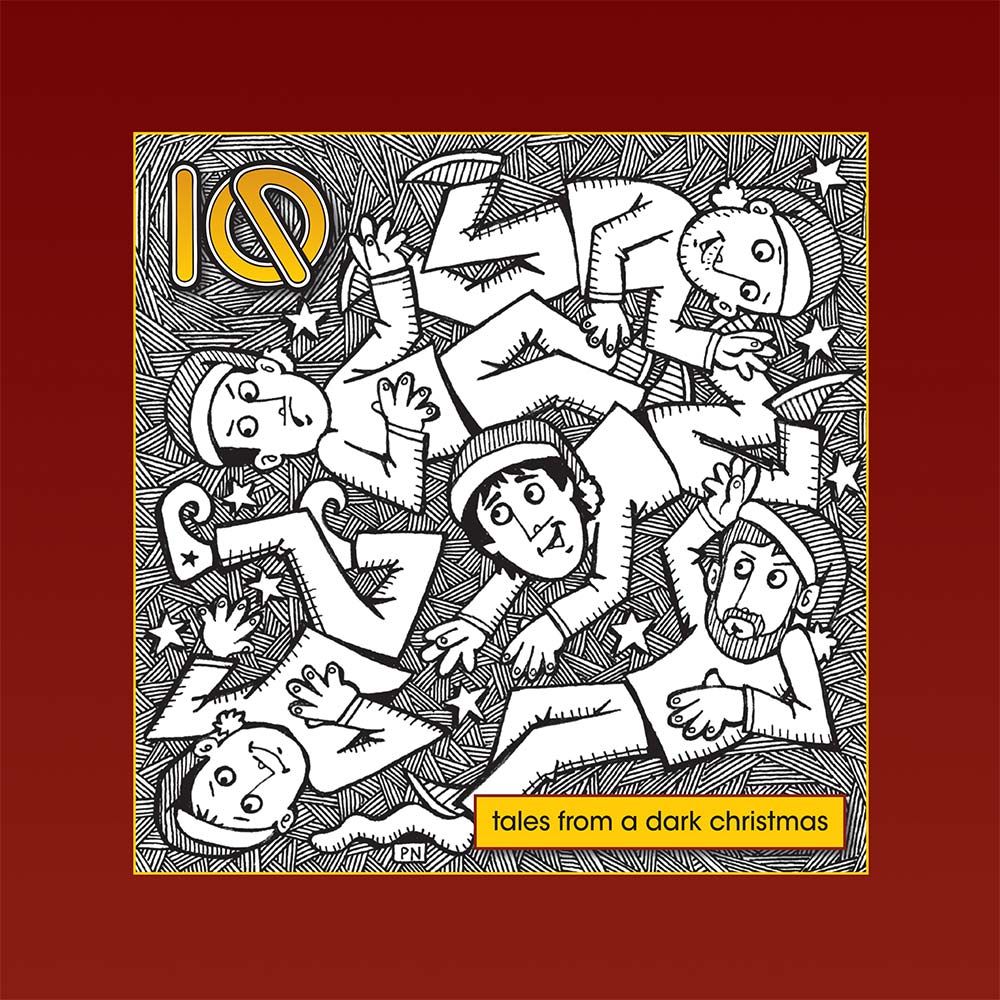 The IQ 'Tales From A Dark Christmas' fan release was originally recorded as a special treat for attendees of their Christmas shows since 2017. The last few weeks the band has been shipping their (2 x 10inch) vinyl re-releases of this 50 minute long holiday record and I happened to receive mine on the same day as the original red-cover vinyl of 'Tales From the Lush Attic' (second hand copy). Since this album has had a proper release now, I don't see why this should not be regarded as a formal 'studio album'.
Ok', an IQ Christmas album. A joke right. Well, this is actually more like any IQ album of the last twelve years than you might imagine! The band is - of course - known for its dark atmospheric neo-progressive rock and because of its string of no less than eight winning albums since 1993's 'Ever' the band has become one of the most important bands of the genre today.
'Tales From A Dark Christmas' opens with the 'Christmas Intro' which is actually used to open the shows before the band starts playing. This instrumental track opens with layers of electronic music before developing into a full-blown progrock suite of Christmas melodies with a leading role for guitar-player Michael Holmes. Usually his solo's are 'just' an ingredient of the compositions, but he really shines here as a fiery passionate personality. 'I Believe in Father Christmas' is a Greg Lake (ELP) cover given a typical IQ treatment. A bit dark and moody for a Christmas song, but that applies for all tracks here! 'Merry Xmas Everybody' is a cover of Slade with some altered chords, a strong middle section and some intense drumming of Paul Cook. Again - that festive feel is replace by that dark gothic IQ vibe, but it kind of works (especially after hearing it a few times). I do miss the vocal harmonies of the original. 'O Tannenbaum' is a traditional jazz-trio (bass, piano, drums) rendition with an impressive piano solo by Neil Durant. Well played, but perhaps a bit out of place and a bit too long for it being just an interlude. The band's version of 'Let is Snow!' might be my favorite cover here; slow, moody and well arranged; it really creates that dark winter landscape scene.
The center stage of this record is taken by the twenty minute epic 'The Dark Christmas Suite'. IQ combines re-arranged - sometimes barely recognizable - Christmas classics with dark brooding symphonic interludes. Especially the opening section is pretty bleak, almost frightening. I love Peter Nicholls' fearful singing on the 'Winter Wonder Land' section. It is followed by short sections that would have fit in IQ's most recent masterpiece 'The Great Spirit Way', but are in fact (at least lyrically) covers of 'We Can Build A Snow Man', 'We Three Kings' and 'Star of Wonder' and 'Santa Claus is Coming to Town'. The gothic section is beautiful (it reminds me a bit of Arena's ending section of 'A Crack in the Ice'), as the band continues with 'God Rest Ye Merry Gentle Man' and finishes with 'The First Noel'. All in good taste and classic IQ prowess.
The production of this record is on par with IQ's most recent releases, though perhaps not as rich an detailed as their last two records. In conclusion 'Tales From A Dark Christmas' really is a sort of lost IQ album that on the one hand is totally different because of the holiday material, but on the other hand is still a great dark gothic neo-prog album of one of the best bands in progressive rock history. The arrangements come across as inspired and recorded and produced in good spirit as well! Actually, this album fails on only one level; as a pleasant family friendly Christmas record for the holiday season..
I'm loving this IQ rarity more and more as I keep listening to it. Four stars over Bethlehem for sure. Merry Xmas everybody!
Friso
www.progarchives.com
Tales From A Dark Christmas
Christmas Intro / For Christ's Sake
I Believe In Father Christmas
Merry Xmas Everybody
O Tannenbaum
Let It Snow! Let It Snow! Let It Snow!
The Dark Christmas Suite