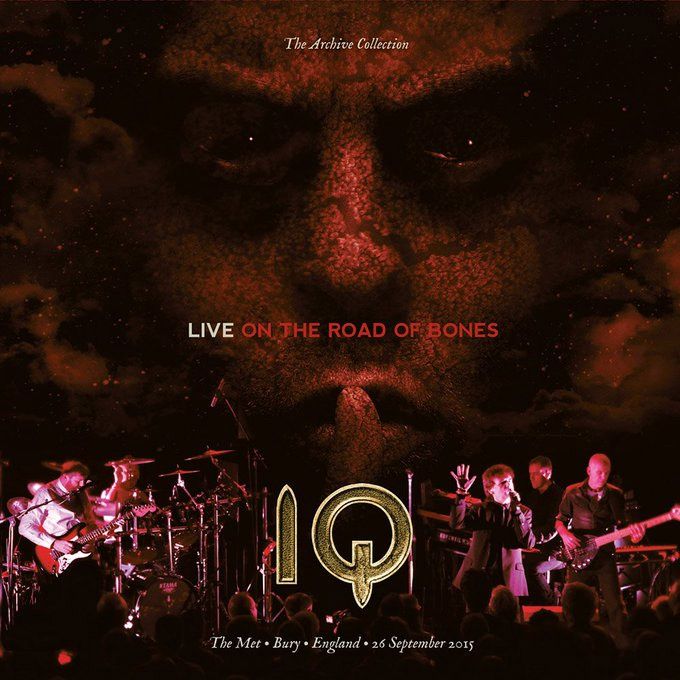 IQ are far and away one of the best bands in prog, with their remarkable consistency from 1993 onwards heralding one of the most impressive runs of studio albums in prog. Setting aside non-"main" studio albums - your archival releases, remixes, and rerecordings - I'd say their studio releases from Ever to Resistance represents a streak of excellence that has yet to be broken and which would be the envy of any other band.
Now, the good thing about being a band who's produced so many truly excellent songs is that it gives you a really deep bench to pick from when you are putting together a live show. Take Live From the Road of Bones, for instance. On two stuffed CDs, the band not only play the entirety of the first disc of the Road of Bones album (the "core" material on the album, if you will, since the second disc isn't on all editions), but they also treat us to material from a wide range of the rest of their discography, with pieces from The Wake, Ever, The Seventh House, Dark Matter, and Frequency all represented.
The end result is a superb setlist which I can't really find fault with. Though the band have occasionally played Paul Menel-era songs with Nicholls on vocals, at the same time I can't put hand on heart and say that the set would be improved by any this time. (Nor does it really cry out for anything from Seven Stories Into Eight.) The lack of any material from Subterranea makes sense given how closely associated with that album's storyline those songs are, and since there's something of a story hinted at in the core songs of Road of Bones perhaps adding in Subterranea associations would confuse things. Tales From the Lush Attic's best songs are, let's face it, the two epics, and the band seem to have decided - not unjustifiably - to make Without Walls from Road of Bones the standout epic of the night.
Either way, when you have a set list this good, all you need to do is then get IQ to perform it to their usual high standards (which of course they do) and make sure the audio engineers do a good job capturing the performance (mission accomplished). When you put it this way, making a live album this good seems easy... but that's if and only if you have a band on the level of IQ on your hands. As Live On the Road of Bones testifies, such bands are a rare treat indeed.
Warthur
www.progarchives.com
Live On The Road Of Bones
Disc 1:
Intro
Sacred Sound
Outer Limits
From The Outside In
Born Brilliant
The Road Of Bones
Without Walls
Disc 2:
Ocean
Ryker Skies
Guiding Light
Until The End
Headlong
Out Of Nowhere
The Wake