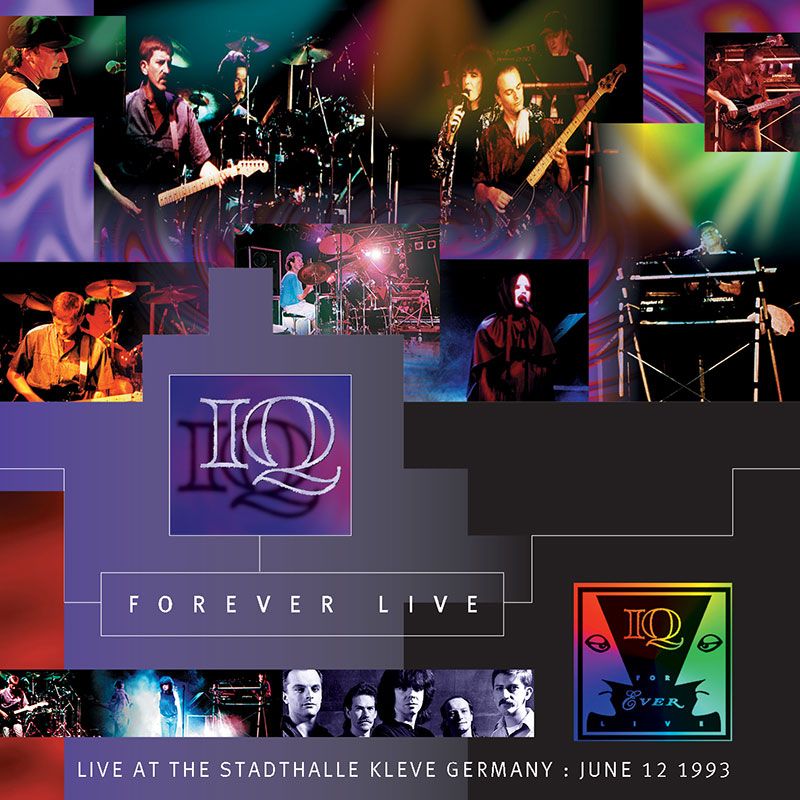 This live recording was performed at Stadthalle Kleve Germany: June 12 1993. There are three reasons why this album deserves five stars:
(1). This was a showcase concert timed to coincide with the release of their 1993 album "Ever". I consider this was a brave decision made by the band to play the songs that the crowd was not familiar with the new album. Of course, the concert itself did not only contain the new materials but still, the existence of non familiar songs played that night exposed the band to a certain risk level.
(2). The band performed their best performance for some of their best tracks (there were still many other best tracks of the band that did not make up into the live set) stemming from their old as well as new albums. The track selection from the old albums is really good. All tracks from old albums were performed better than the studio versions while the new ones from "Ever" were performed at par excellent with the studio version. Remember, this live record was released three years after the showtime; so by the time I got this album I had had been familiar with the band's "Ever" album. There were four (4) out of six (6) tracks from new album performed that night. Reading through its sleeve, I respect the band's honest statement to drop "Further Away" from the live set to relieve tension that grew an hour before the stage curtain was lifted up.
(3). Typically in any live album we tolerate poor quality production especially in the sonic quality of the CD. It doesn't apply here because this album produces excellent sound quality with wider dynamic range as compared to studio versions. Even, I'd better enjoying this CD than the original studio album CD. I can enjoy and appreciate this live set fully if I turn my power amps volume really LOUD!
THE SHOW
The album starts off with a soft and ambient keyboard sound combined with people's crowd followed with a dazzling intro of groundbreaking track "The Wake" in a very energetic way. Wow! What a dynamic music man ..!!! This track was my first favorite from the band. I like its rocky style and creaming vocal by Nicholls. Paul Cook's drums are much better here than its original version as he puts more dynamic drumming especially during transitions. It then flows to the second track "The Darkest Hour" from new album with a hard driving rhythm and pounding bass lines augmented with keyboards. This rocking track with heavy 70s prog touch is performed excellently by the band. The band continues its showcase with another fine track from The Wake album "Widow's Peak". This track reminds me to early Genesis especially its melodic opening part where the guitar fills accompanied with ambient keyboard. When the music plays in full involving all instruments, oh man . what a great treat: dazzling drums followed with inventive keyboard by Orford featuring pondering voval line. Excellent!
Next track "Out Of Nowhere" from new album is another upbeat track with energy combining the work of drums, bass and keyboard nicely in sort of staccato style music. "Nostalgia / Falling Apart The Seams" is another wonderful track from "Are You Sitting Comfortably?" album. It starts off with catchy keyboard sound followed with relatively faster tempo, high energy and uplifting mood music. Yes, it's another favorite of mine. The composition is great: stunning keyboard, solid bass line and energetic singing style. The band continues its journey with a section from their debut album "Tales from The Lush Attic", ie. "The Last Human Gateway (middle Section)". CD One concludes with a relatively slow track "Fading Senses" from the new album. Wow! A very nice track performed flawlessly by the band. So many catchy melodies here.
CD Two starts with The Wake's "The Thousand Days" continued with another great track from the new album "Leap Of Faith". Again, this is another treat as this melodic track was performed wonderfully, flawlessly! What I did not expect but in fact was performed in the live set was "Human Nature" that originally was sung by Menel (the previous vocalist) from "Nomzamo" album. Again, I'm amazed with this performance. The song itself is great: it has a great variation and changing tempo with many catchy segments.
Next is from the band's debut album which was performed excellently by the band: "The Enemy Smacks". This track has become classic to me as this was released early 80s. Beautifully composed track reminiscent of early Genesis. The fifth track is truly a KILLING track because it has a very VERY melodic lyrical part and wonderfully crafted composition. It's called "Headlong " from The Wake album. It opens with great singing overlaid on soft keyboard work. Oh man . I LOVE this track!
The band concluded the show with another section (non acoustic part this time) of an epic from their debut album: "The Last Human Gateway" (end Section) and again another track from "Nomzamo" album where Nichols did not contribute in studio version as he left the band at the time : "No Love Lost". This track was an opening one for Nomzamo. Excellent.
SUMMARY
You do NOT have to be an IQ die hard fan to enjoy this album as the music is so powerful with a lot of catchy segments, recorded live with superb sonic quality - even the dynamic range is quite wide, I sense it. If you like early days symphonic prog but in a little bit simpler form, this album fits you. You may enjoy buzzing and howling guitar of Mike Holmes, punchy keyboard of Martin Oford, solid bass lines by John Jowitt and dynamic drumming (better than any studio version) by Paul Cook. In fact, the mixing of this live album seems like to favor drums as the sounds are very clear and firm throughout this record. Unfortunately by the time I write this review, Paul Cook intends to leave the band. Peter Nichols also performs excellent job in this album. For me personally, this album has been in my CD shelf for nearly nine years but I still find it very enjoyable to start my day with this CD. Great live music! Keep on proggin' ..!!!
Progressively yours,
GW
Notes:
This review is dedicated to all IQ fans all over the world, basically those who subscribe into "It All Post Here" and those who do not. In specific, I want to dedicate to my prog mates in my country that really love IQ with their heart: Rachmat Hery (Keli) - thanks for the forwarded info on IQ, Tatan A Taufik - hey, there are many "The Wake" tracks in this live set!, Oga Zano - When you come back to London, don't forget to attend IQ's next gig man! Get them shot with your digital camera!, Herman Schulz - are you still "in trance" with Dark Matter?, Imam S - who was amazed with the beauty of IQ music, and last but not least, the man who always inspire me, the neo man .Bowo!
Gatot
www.progarchives.com
Forever Live
Disc 1:
The Wake
The Darkest Hour
Widow's Peak
Out Of Nowhere
Nostalgia/Falling Apart At The Seams
The Last Human Gateway(middle section)
Fading Senses
Disc 2:
The Thousand Days
Leap Of Faith
Human Nature
The Enemy Smacks
Headlong
The Last Human Gateway (end section)
No Love Lost
---
---