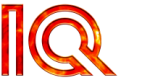 Is It Nearly Christmas?
28 February 2014
---
We know many of you are still nursing a hangover from the Legendary IQ Xmas Bash 2013 but let's not worry about that right now...
We are pleased to announce that the Legendary IQ Xmas Bash 2014 will take place on Saturday December 20th 2014 at our regular London haunt, the O2 Academy, Islington.
With the first IQ album in 5 years being released this May it should be a tremendous way to end the year.
It's still a little early to give out ticket details but we will announce them in due course.